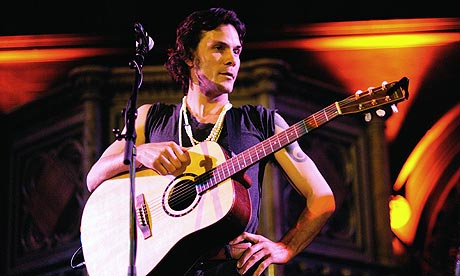 As Part of the Appalachian Voices Tour supporting Yim Yames.
Review by Halloween Head(the biggest Simone Felice fan I know)
And he didn't play "Nowhere New York"
This was the first time that I've seen Simone solo and as an opening act. I sensed a strong heartfelt connection with parts of the audience but the majority (it seemed) were there for Yim James and the Appalachian Voices. Still, Simone was very warmly received and performed a beautiful (if brief) set that included:
Ol' 55 (he explained how this song had been on his mind lately)
If You Ever Get Famous (including a new verse involving a trip to the sea)
Summer Morning Rain (dedicated to his daughter born in the rain last week!)
New Song (sadly don't recall any lyrics but Simi and another female vocalist helped audience with the singalong chorus)
O' Gloria (track off of his solo album dedicated to his "liitle, giant brother, James")
Shower The People (by James Taylor, a song dedicated to all of the people who helped him get through his recent health scare)
Don't Wake the Scarecrow (this song was played by audience request after Simone was granted permission for one more song : )
I think that was all of them, Simone mingled with the crowd following the set and enjoyed parts of The Appalachian Voices excellent show stageside. The merch table listed his solo album but there were none available by the time I approached (only had Nothing Gold, Arizona, and Amelia). Overall, a great experience!
Frankiesgun.com